Finding People and Places using the Web
Written on January 5, 2003 by Robert & Karen Vanderzweerde
Appeared in Greenmaster Magazine
Have you ever tried to find a business when you had no idea where it was? This isn't too hard to do in your hometown because you'd have a local phone book, probably a local map, and know people who may be able to guide you. It's a bit tougher when you're visiting another city.
There are services available on the Internet that will help you find things and get around.
In this article, the example used is finding a car dealership to service our car complete with directions on how to get there.
Finding a Person or Finding a Business
There are many web sites that will help you find a business or person. Here are a few of the key Canadian ones that we've tried recently:
Looking up a business by name can be tricky. When we entered "Scarborough Toyota", we got no results at Yellow but Yellow Pages listed several similar entries where we found the business listed as "Scarborough Lexus Toyota". Once located, the services give you the address, phone number, and, at Yellow only, an associated web site.
Both Yellow and Yellow Pages can help you find businesses by category, location (province, region, or city/town), and other factors - just like your printed yellow pages directory.
Finding a person is easier unless you have a commonly used name. Yellow only allows lookups by last name while in Canada 411 you can also enter a first name to narrow the search. The results include the address, phone number, and postal code.
Yellow claims to index 1 million business and 12 million people in Canada (no similar statistics were available from Yellow Pages). Yellow also operates in the United States at http://www.yellow.com/.
Maps & Driving Directions
Both Yellow and Yellow Pages have mapping services or give driving directions as well.
At Yellow, you can get the shortest route, the fastest route (25 minutes), or a walking route to your destination. The maps show the start and end points but the route is not highlighted. The service is based on MapQuest's offering (more about this later) and when I tested it, it had our house located in the wrong place so the first driving direction was wrong. Also, the routes it chose were not ones that I would take.
At Yellow Pages, only a map locating the business was available based on MapQuest's offering (i.e. no driving directions were available).
We have two favourite mapping services that we use that include maps from Canada.
Both services can locate a person or business based on address or postal code, have interactive maps that allow you to zoom in and out and change your focus, and offer driving directions with street names, turns, and distances. Here are sample maps with their suggested route highlighted: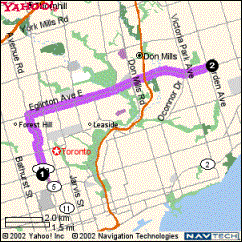 At MapQuest, the default maps are from the United States. The first thing you have to do is select Canada as your country. The resulting maps are easy to view and look like line maps (i.e. each road is a singe line). The driving directions are based on the fastest route although when we tested it, it did suggest a route that we wouldn't normally take. The route was highlighted but we had to find the other streets ourselves by zooming in and moving around manually. It also had to location of our house in error so the first driving direction was incorrect.
At Yahoo! Maps, the resulting colourful maps are easy to use and look comprehensive (roads were outlined using two lines). The driving directions utilized major streets and seem to be more direct. The route is highlighted on the two maps so you can see as well as read where you're going - one shows the overall route and one is interactive allowing you to easily traverse the route while zoomed in on the details. For the people who confuse left and right (like I do), there are symbols in the directions to show you which way to go. As a small quirk, we found was that driving distances were shown in miles although the overall distance was shown in kilometers. When we tested it, the resulting route was the one we would normally use.
Test It Yourself
Here's an interesting test that you can take to see which lookup or mapping services work best for you.
Look up yourself. Does it have the right address? Phone number? Postal Code?
Look up your place of work.
Use a mapping service to locate yourself, locate your place of work, and give you driving directions on how to get from one to the other.
Knowing how to get there can save you time and money. While on a business trip to Paris, the taxi driver had no clue on how to get to a client's office. He took a round about route that took 90 minutes and cost me 90 Euros (about $150). The taxi driver coming back knew the area better and it took only 45 minutes and cost 45 Euros to get back to the hotel. If only I'd had a map and driving directions!